$1.2/per CA-MES62/30 100/5A 1cl.hottest model in Europe,South Africa,Russia Market Samples free!
The MES series of current transformer are convenient for mounting in many ways.The most current transformer need the special mounting and the MES series used the mounting of DIN typing without a lot of times.The protective cover for terminal block used the switching device with safety and quick.
Feature:
1:Three built in fixing methods: Panel/Din Rail/Busbar
2:Built in hinged terminal cover
3:Compact design
4:Primary current up to 3000A
Applications:
1:Current measurement, monitoring and protection for electrical wiring and equipment.
2:Current and power measurement for electric motors, lighting, air compressor, heating and ventilation system, air-condition equipment and automation - control system.
3:Current, power and energy monitoring device.
4:Relay protection device.
| | | | |
| --- | --- | --- | --- |
| Frequency | 50/60Hz | Case | PC/UL94-V0 |
| Rated Input | 5A-3000A | Bobbin | PBT |
| Measuring range | 5%In-120%In | Core | Silicon steel |
| Rated Output | 1A,5A | Construction | Screw |
| Ratio Voltage | 0.72KV (AC) | Operating Temp | -25℃~+75℃ |
| Dielectric strength | 3.0KV/1mA/1min | Operating Humidity | ≤85% |
| Insulation Resistance | DC500V/100MΩ min | Output Connection | Terminal |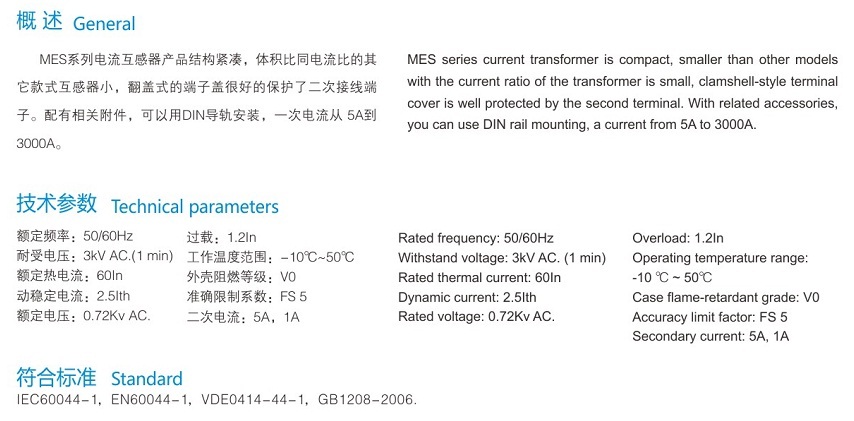 CURRENT TRANSFORMERS MES-62/WS
Primary current:
Secondary current:
Standard approval:
Maximum voltage:
Frequency:
Rated load:
Class:
Short-time thermal current:
Rated security

5A-150A
5A,1A
VDE0414,BS7626,IEC44-1
0.72/3KV
50-60Hz
2.5VA,5VA,10VA,15VA
0.5,1.0
Ith=60×Ih
FS<5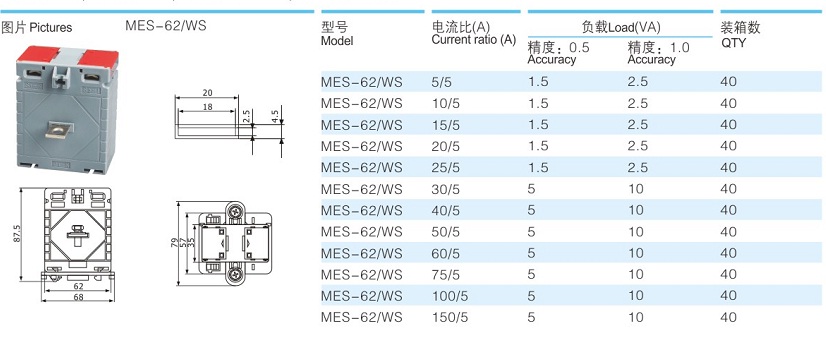 CURRENT TRANSFORMERS MES-62/30
Primary current:
Secondary current:
Standard approval:
Maximum voltage:
Frequency:
Rated load:
Class:
Short-time thermal current:
Rated security

30A-400A
5A,1A
VDE0414,BS7626,IEC44-1
0.72/3KV
50-60Hz
2.5VA,5VA,10VA,15VA
0.5,1.0
Ith=60×Ih
FS<5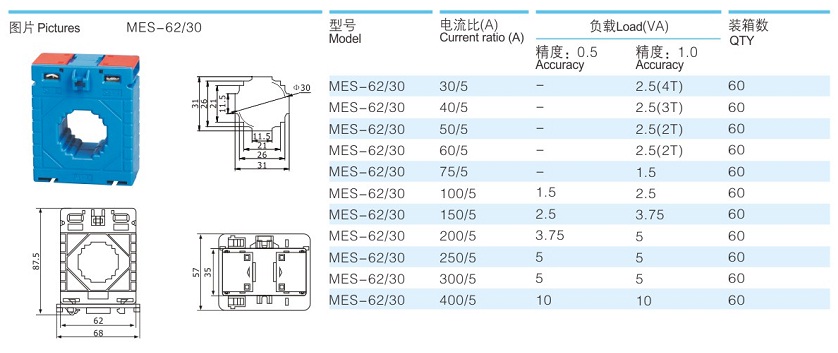 CURRENT TRANSFORMERS MES-62/40
Primary current:
Secondary current:
Standard approval:
Maximum voltage:
Frequency:
Rated load:
Class:
Short-time thermal current:
Rated security

60A-600A
5A,1A
VDE0414,BS7626,IEC44-1
0.72/3KV
50-60Hz
2.5VA,5VA,10VA,15VA
0.5,1.0
Ith=60×Ih
FS<5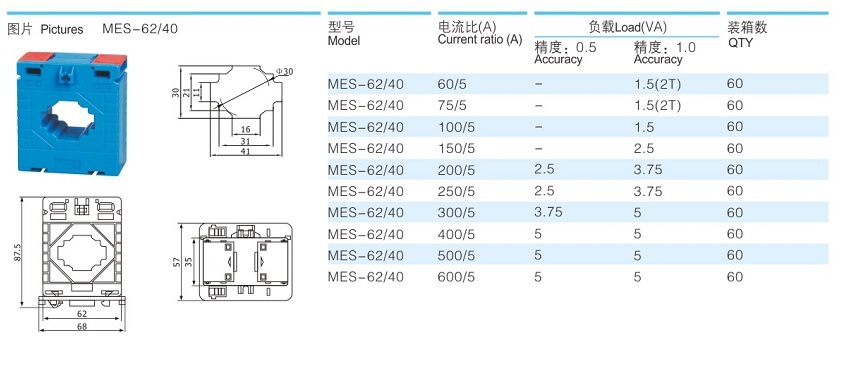 CURRENT TRANSFORMERS MES-80/30
Primary current:
Secondary current:
Standard approval:
Maximum voltage:
Frequency:
Rated load:
Class:
Short-time thermal current:
Rated security

30A-400A
5A,1A
VDE0414,BS7626,IEC44-1
0.72/3KV
50-60Hz
2.5VA,5VA,10VA,15VA
0.5,1.0
Ith=60×Ih
FS<5
CURRENT TRANSFORMERS MES-100/60
Primary current:
Secondary current:
Standard approval:
Maximum voltage:
Frequency:
Rated load:
Class:
Short-time thermal current:
Rated security

400A-1600A
5A,1A
VDE0414,BS7626,IEC44-1
0.72/3KV
50-60Hz
2.5VA,5VA,10VA,15VA
0.5,1.0
Ith=60×Ih
FS<5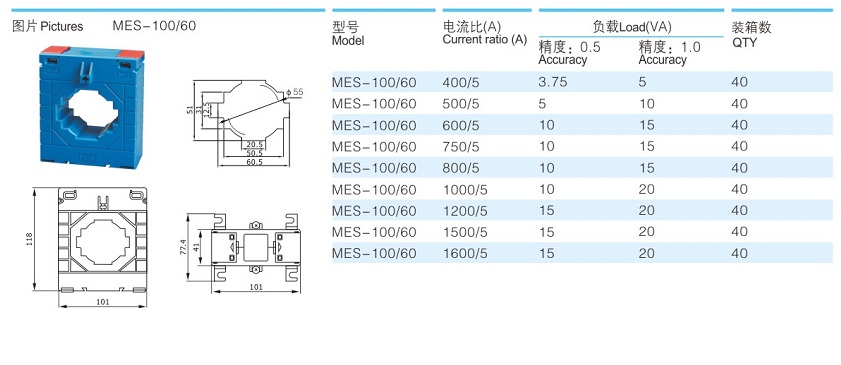 CURRENT TRANSFORMERS MES-104/80
Primary current:
Secondary current:
Standard approval:
Maximum voltage:
Frequency:
Rated load:
Class:
Short-time thermal current:
Rated security

600A-2000A
5A,1A
VDE0414,BS7626,IEC44-1
0.72/3KV
50-60Hz
2.5VA,5VA,10VA,15VA
0.5,1.0
Ith=60×Ih
FS<5
CURRENT TRANSFORMERS MES-140/100
Primary current:
Secondary current:
Standard approval:
Maximum voltage:
Frequency:
Rated load:
Class:
Short-time thermal current:
Rated security

800A-3000A
5A,1A
VDE0414,BS7626,IEC44-1
0.72/3KV
50-60Hz
2.5VA,5VA,10VA,15VA
0.5,1.0
Ith=60×Ih
FS<5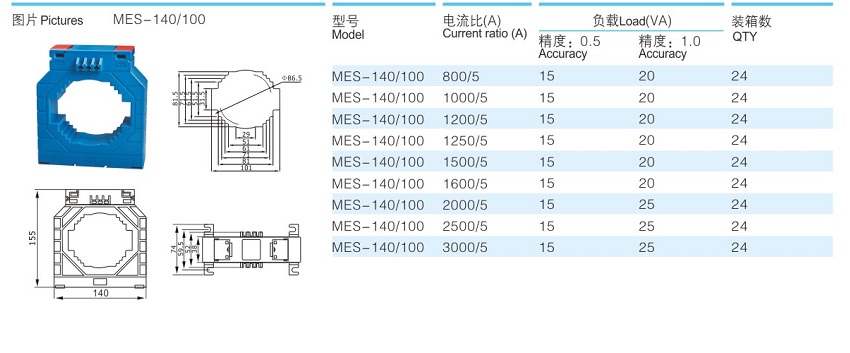 Datasheet MES Current Transformer catalogue Download

click to other model catalogue:
ccex